Customer Service in the Pet Industry
Every business in America has a need for quality customer service, however in the animal industry there's more to get right.  It's easy to help an animal, they are always grateful for any amount of love, affection and support they are offered however pet parents are not the same as they were 20 years ago.  Not only do you have to help and cater to the animal you also have to impress the pet owners as well, ensuring the human and animals happiness.  It is estimated the global pet industry is worth 232 billion with 103.6 Billion of that in the United States alone and according to a spots.com article on 3/22/2023 the annual rate of growth in the pet industry is 11.6% every year.  While 67% of households in the US have pets an increasing number of new pet owners are taking their love of animals to the next level.  As more and more people opt out of having children they place a higher priority on their pets, often times treating them like children.  It is important to understand that the health of their fur babies is just as important to them as if they had a natural human child.  Wetteny Joseph the CFO of Zoetis an animal healthcare company providing medication and vaccines to veterinarians is quoted as saying "adding real value starts with understanding the outside-in, focusing on the customer experience and needs". In summary starting and ending with the customer.  He goes on to say "we are seeing a new generation of pet owners emerging – millennials and Get Z comprise about 50% of all new pet owners in the US and they place a premium on their pets health and wellness.
In the animal orthotic and prosthetic (O&P) industry there is a high priority placed on customer service to not only aid and assist an animal but also to make the pet parents happy and satisfied.  Global Market Insights recent article from June of 2023 reports that the pet O&P industry to be 45.6 million in 2022 with a projection to be 109.2 million within 10 years.  Customers are savvy and with the use of the internet can quickly shop around. The only thing you can do to stand out from the other companies is give exceptional customer service. Both Google reviews and word of mouth chatter on social media all speak volumes for your customer service however both of these avenues are hard to obtain when doing things correctly.  Some companies will pay for google reviews and social media friends and it's hard to weed through the nonsense to get to the real stuff.  Placing a high priority on integrity and doing what's best for both the pet and the pet parents will continue to be a priority for Specialized Pet Solutions  as an industry leader.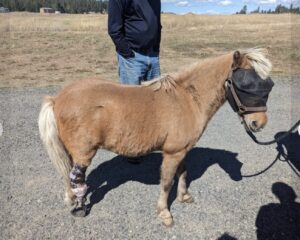 Specialized Pet Solutions (SPS) was named a key player in the animal O&P industry and strive to not only help animals live their best life but also give quality customer service to every pet owner.   SPS attempts to understand, and truly listen and hear what our customers needs and wishes are.  At SPS we guarantee every review is authentic, well earned and deserved.  Our word of mouth campaign with animal sanctuaries and rehabs is also gaining traction.  Here are some reviews we have proudly earned:
From Karen McCue- "When we received the prosthetic that Angela made we were so upset with OURSELVES-we had another provider-at GREAT cost-make a prosthetic for our three hooved donkey and when we received the one from Specialized Pet Solutions we realized that for over two years it was all WRONG!!Angela really took the TIME and EFFORT to really formulate just the RIGHT prosthetic for our dear girl. The prior prosthetic enclosed her stump and was so painful that she used her nose to walk and steady herself. We thought that was the best we would ever get. She could barely hobble and it was obvious that this was very painful for her too.  Then comes Specialized Pet Solutions-Our dear girl Penny is now walking without her nose and literally runs away from me now when she sees the farrier coming!! We NEVER EVER thought we would see her RUN!!!  NO MORE PAIN! She can walk and feel "normal" again.  In addition the other prosthetic enclosed her stump causing constant reinfections. This also ended with Angela's brilliant open design-the stump now stays dry and HEALED!!  I simply cannot RECOMMEND this WONDERFUL place enough!!  This has been LIFE ALTERING for our sweet girl-and everyday I see her walking around it makes me smile.  They take the TIME and really come up with the RIGHT SOLUTION-their name couldn't be any more appropriate!! I will never be able to THANK Angela enough for this magnificent transformation!"
From Mary Odom- "I can't sing the praises of Angela loud enough! My labradoodle has a partial tear in his cruciate ligament. Surgery was suppose to be the only solution. A $7000 solution. After some research about braces I found Angela and specialized pet solutions. She can make just about anything! And each one is customized for your furry family member. Customer service is top notch! I never had to wait for a reply to my emails or phone calls. She is so patient and kind. Please if you have a special need for you pet (any kind of pet) do not hesitate to call them."
From Keith Scott- "My sweet dog Peaches, now 6, was having difficulty with her front right leg. After xrays, ct scan and mri she was diagnosed with elbow dysplasia. She was first started on anti-inflammatory meds then gabapentin was added. While she always loves car rides and walking these activities were becoming more difficult.  The  elbow dysplasia caused her pain when walking which over a brief time period kept getting worse. As a result she was given arthroscopic surgery with little brief improvement. She then got PRP treatment with no change. She would only be able to walk a little bit before she refused to go any further due to the pain. She was refusing car rides.  I made the decision to try the options on Amazon for ready made elbow braces. They didn't help, and made things worse. I talked to several brace "specialty " internet services as well as local rehab vets but they really offer standard concepts for braces fit to your dog. One of those services suggested I try  Specialized Pet Solutions in Spangle, Washington. After discussing my ideas with them, I knew I had found a place and people who knew what they were doing and really offered individual braces. They design for your pets needs. The consultation is free and ultimately it cost me less than a tenth of what i paid prior to the brace. Peaches and I decided the 8 hour drive( each way) was worth the effort( okay, I did most of the deciding).  They are very nice, well equipped and capable. They understood Peaches and listened to my concerns and past history trying other braces.  The dog brace was built in a timely fashion. I learned that even after casting to duplicate the shape of her body a few adjustments for the perfect fit is needed for proper movement of the leg in a brace. They were very accommodating and clearly wanted to find just the right brace shape and strapping. Not only is Peaches  walking again, she insists on it. She know's the brace helps her and she easily allows it to be placed on her body. I know it is working because she doesn't want to stop walking. My dog is walking farther and is happy on our trips out.  I recommend this company to anyone looking to help their pet with mobility issues. I only wish I had found them sooner so she didn't have to go through all those other procedures. In the future I will think of Specialized Pet Solutions first."
SPS strives to maintain quality craftsmanship and exceptional customer service for all your animal O&P needs.  From dog knee braces for a torn CCL to prosthetics for your special pets we will come up with the best quality solution available on the market.