Dog Knee Brace – Specialized Pet Solutions – $695 (Stifle Brace)
The most common injury in a dog is a CCL / ACL tear. Dog knee braces (stifle brace) are a great tool to help your dog heal from this common injury. The Cranial Cruciate Ligament (CCL) attaches to the femur, runs across the stifle joint and attaches to the tibia. The CCL holds the tibia in place and prevents internal rotation, hyperextension and the forward motion referred to as "The Drawer Motion". A CCL rupture is the tearing of the ligament either a partial or a complete tear resulting in instability, pain, and lameness. Our knee brace for dogs can help provide support and pain relief while your dog recovers from this injury. It can also be used pre and post surgical intervention to help provide support and limit the range of motion while your dog heals. Our dog knee brace is custom made to fit your animal precisely. It will be one of the kind and completely unique to your dog.  There is a variety of colors and patterns to choose from.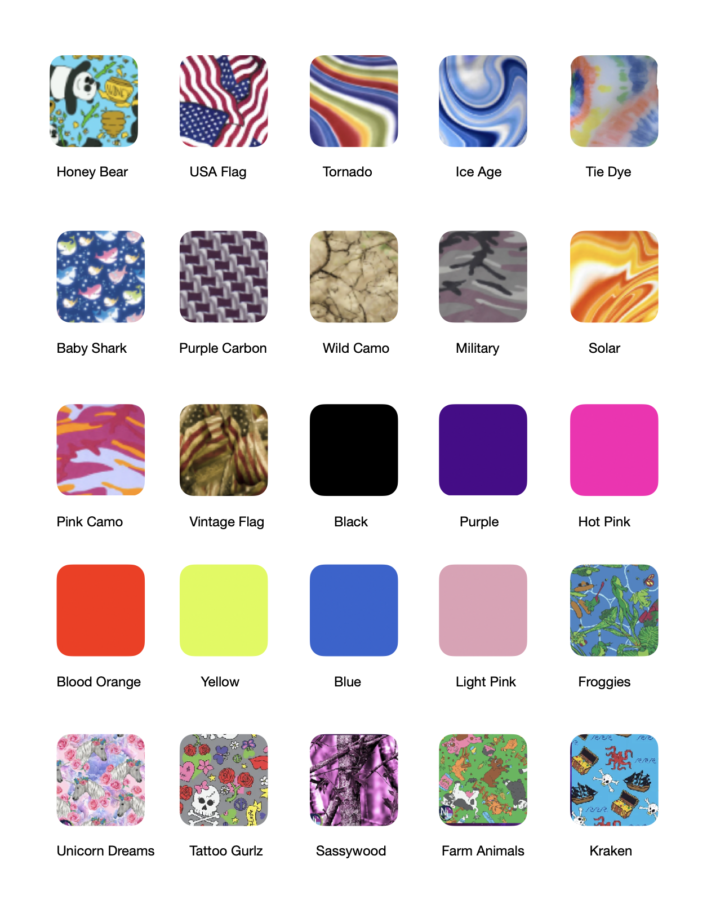 Choose from the color options shown, enter choice on order form.
Why Our Dog Knee Brace is the Best on the Market
Our dog knee brace is designed with two unique features.  First- we have a built in achilles relief channel that cushions the achilles tendon and keeps the strap on the front of the leg, reducing pressure on the tendon.  This will prevent breakdown of the achilles tendon and further injury.  Second-our patellar bar prevents the drawer motion which is the primary cause of a CCL tear.   It cages the knee and provides stability and prevents both medial and lateral movement.  We use the same materials in our dog braces that are used for making human orthotics.  Your special pet will receive the highest quality device on the market.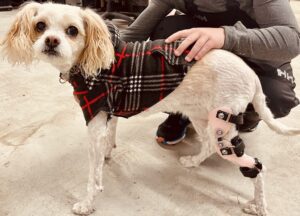 Description
Our dog knee brace can help your canine pal recover from a variety of knee-related injuries and problems, such as:
Full CCL / ACL Rupture

Partial CCL / ACL Rupture

Luxating Patella
For each of these conditions, this brace provides support and relief in a way that allows your dog to keep enjoying their high quality of life. Our dog knee brace provides support with our innovative technology to support the whole leg of your dog. Our patella bar eliminates the drawer motion which often times causes the CCL to tear. It also prevents lateral movement and our one of the kind dog braces are unique from any other brace on the market as they provide relief to the Achilles ligament as well. With our specially designed Achilles relief support system you don't have to worry about damage to the Achilles tendon, whereas other braces can cause damage to the Achilles ligament over time.
Our dog knee brace also known as a stifle brace is custom made to fit your pet specifically. We do this through a simple cast that you or your vet can do which is then mailed to our fabrication lab in Spokane, WA. From there we create a mold of your pet's affected limb that we use to build the brace around. Dog knee braces are a much more affordable and conservative solution to a CCL tear. Arthritis is another common issue in aging dogs that a dog brace works well for.  Our custom dog braces can help support the joint which in turn reduces pain and aggravation to the area.  We can also build braces for larger animals such as cows, horses, goats, sheep, pigs, alpacas, etc.
Each dog brace is made out of high quality materials and manufactured to the highest standards right here in the United States. We have successfully fit thousands of dogs.
Animal wellness is our top priority and we offer a 5% discount to any animal shelter or sanctuary.  Our prices start at $695, price is determined by size and difficulty.  Please call for further information on how we can help your animal today 833-682-7375
Once you order your device from Specialized Pet Solutions, we mail out a casting kit.  Once you receive this casting kit watch the casting video below.  It is helpful to watch the video prior to casting as it allows you a visual of the process and will aid in gathering the necessary materials needed to do the cast.  If you are uncertain about doing the casting yourself, your veterinarian can also do it for you (their fee's apply).  Once the cast is complete ship it back to us and we will create a mold of your animals limb.  With the mold we create your custom device.  Please allow 3-5 business days for manufacturing.  We will then mail your custom brace to you.
Please be understanding and nurturing while your pet acclimates to this new tool. All animals treat braces differently and adjust accordingly.
***The customer is responsible for informing SPS in a timely fashion for any adjustment that are needed, or any device defects or other issues.  Customer must contact SPS within 30 days of receipt of device to let us know of any issues.  We will make adjustments within the first 6 months to ensure proper fit, however we cannot guarantee animal acceptance. As this is a custom one of a kind device specific to your pet there are no refunds.
A Letter From Our Founder:
My name is Angela Boncz I am the founder and CEO of Specialized Pet Solutions, a small company offering custom orthotics and prosthetics (O&P) for animals. I have been an animal lover all my life and often toyed with the idea of becoming a veterinarian. In the end I went a different route in college and studied O&P.
I worked in the human O&P industry for a short time until a puppy I adopted needed an expensive surgery for a cranial cruciate ligament repair. Since this is similar to an ACL tear in humans I wondered if I could heal her with orthotics. So I made her a brace and she healed completely without surgery. This was my light bulb moment. I knew I could do this for other animals, and I started dabbling in dog knee braces at home all while continuing my employment with the human O&P company I was working for.  A couple of years later I adopted a 3-legged mini pony named Prince. He was using a whiffle ball bat as a prosthetic, so I made him a new prosthetic leg and pretty soon he was running and bucking like a normal mini pony.  At this time I knew what I wanted to do with the rest of my life.
I have been doing O&P for 20 years and animal O&P for  over 15 of those. I was located on the East coast for most of those years however I have recently moved back to Eastern Washington to be near family and my home town. While most of my business is dog knee braces and carpal braces I have also created devices for horses, cows, a camel, goats and sheep. No animal is too large or small, I even created a device for a lemur!
I have a small farm south of Spokane Washington where I have adopted several special needs animals and help them live their best lives. In 2019 I acquired a miniature donkey born with extreme hyperextension and valgum at her carpus. Because of the deformity, the little donkey had a rough start in life. When I adopted her I did not have a trailer for transporting animals at the time, but she was so small I simply put her in the front seat of my pickup and headed home on an 8 hour drive with a baby donkey riding shotgun! Over time I was able to correct her front legs to about 90% normal. Rest assured her deformity has not slowed her down in the least she is as spunky and sassy as any other donkey, maybe even more because she is so spoiled. She is living her best life with her brother Prince the 3- legged pony and the other animals on our farm.
I am a pioneer in the Animal O&P industry and feel our dog knee braces are the best on the market.  Due to years of building, researching, tweaking, and repeating the process we have  come up with the absolute best design possible for a custom dog knee brace.   Thank you for visiting our site we hope to hear from you soon if you have a special pet that has special pet needs.
Sincerely,
Angela Boncz CTPO
Do Dog Knee Braces Work For Dogs?
Yes, our dog knee brace is custom designed to fit every animal uniquely. A dog knee brace also known as a stifle brace is built to stabilize the knee and prevent the drawer motion which causes knee injuries in dogs. When the knee is stabilized and the drawer motion is minimized the ligament is allowed to heal over time.
Do Braces Help ACL Tears in Dogs?
Yes, our dog knee braces keep the knee from moving laterally and medially (back and forth and side to side). This gives the ligament time to heal. Often times without surgery.
How Many Hours a Day Should a Dog Wear a Knee Brace?
When your dog first receives their knee brace it should have a two week break-in period where the time is increased in increments daily, until they are wearing the brace during the day and taking it off at night.
What is The Best Brace For a Dog With a Torn ACL?
At Specialized Pet Solutions we have created a one of a kind dog knee brace that is unlike any other dog knee brace on the market. We have a built in patellar bar which keeps the knee from moving medial and laterally, it also has a built in Achilles relief channel that keeps the straps from applying pressure onto the Achilles ligament preventing further injury to your dog's leg.
Can I walk my dog with a torn ACL?                                                                   
Yes you can walk your dog with a torn CCL or ACL, however supporting the leg is very important when walking your dog with a knee injury.  Bracing your dog can keep them from over extending the leg and making the injury worse.  It can also help support and stabilize while the ligament is healing.

Beauty the Bald Eagle: A poacher shot Beauty, tragically maiming her beak so that she couldn't eat by herself anymore and was dependent on hand-feeding for survival. After three years a group of volunteers made her a prosthetic beak, which allowed her to grasp food herself and eat properly again. 

Riley the Mare: Infections like the one Riley had, thanks to a contaminated metal plate that was placed in her limb, are so common that it seems to be a given that the horse will just have to be put down. But this quarter horse's survival of the infection and the use of a prosthetic limb are showing people that this doesn't have to be the case. Riley's survival is truly an inspiration to many.

Oscar the Cat: Oscar the cat's hind legs were severed by a combine harvester while he snoozed in a maize field near his home in Jersey off the mainland of the United Kingdom. A passing cyclist found him and brought him back to his owners; at the time they said he was so covered in blood there was no way they thought he would make it. They got him to an animal hospital known for its pioneering work on the mainland of the UK, and Oscar was given then-unheard-of surgery and fitted with implanted prosthetics. He has been through a few surgeries to ensure the prosthetics are functioning properly and is known as Oscar the Bionic Cat.

These stories are becoming legion, with more and more extraordinary tales of survival and improved quality of life across a larger and larger variety of species all the time. One of the most important considerations, though, must be whether or not a prosthetic will help with improving the animal's quality of life.
It's easy to think that we know what is best for our pet, but it's important to pay attention to the very real concerns about what a prosthetic will help them gain...and what it will not. A prosthetic isn't the same as an original limb, no matter how hard we all want it to be. And it's important to consider your pet's happiness, possibly in contrast to your own. Your happiness at the thought of your pet successfully using a prosthetic may not be the same as your pet's, and it's important that you are able to differentiate between the two.
There are three major considerations to make if you are considering a prosthetic for your pet:
Challenges for your pet: Device suspension, device rotation, and occasionally friction pressure sores are all considerations to make in terms of whether or not a prosthetic will do greater harm than good for your pet, by yourself, your vet, and your prosthetist.

Is your pet a good candidate? Certain requirements exist that must be met to make sure that your pet will be comfortable and adapt well to a new limb. 

Make sure you and your vet's goals are the same: Prosthetics can be made to meet so many goals it is important to ensure you're on the same page in terms of mobility, type of support, stress, and movement, and other issues that will arise as your pet begins to use their prosthetic. 
As always, it is imperative to include your prosthetist in many of these conversations to ensure everyone is on the same page. 
As your prosthetist, we will generally communicate primarily with your vet about all of the specifics of the prosthetics. We'll make sure we discuss everything we've discussed above as well as anything more that needs to be discussed in order to determine the right fit for your pet the first time. 
We will ship you a casting kit along with everything you need to cast your pet. If you are not comfortable casting your pet, please make an appointment with your veterinarian to assist you in the casting process. Your veterinarian will be involved in this process, so having them cast your pet for you may be a good idea; if they are familiar with your pet and you feel comfortable casting the animal, it isn't necessary to have the vet do the casting, however.

If you have any questions throughout the process please contact us. 
If a prosthetic device isn't right for your animal, they may be able to use an orthotic device. You can read more about that process here. 
We look forward to working with you and your pet!