Animals can suffer many injuries and traumas that may lead to amputation, and some animals are born with birth defects resulting in the need for amputation of a limb or they are born without a limb all together. Every case is unique and requires special consideration when determining the best course of action for the animal. At specialized Pet Solutions we have helped numerous animals by creating one of a kind custom devices to help them mobilize as independently as possible. We have created horse prosthetics, goat prosthetics and dog prosthetics. Some animal prosthetics have an artificial limb and some prosthetics need wheels. Every case is special and we love coming up with new and creative ways to help these special pets. Horse prosthetics are becoming more and more mainstream and goat and dog prosthetics are following suit. Call us with your one of a kind needs and let us see if we can help.
The most common orthopedic injury in a dog is a CCL tear. This is similar to an ACL tear in humans. Oftentimes this injury can be remedied with a custom knee brace. This helps stabilize the injured ligament and limits the range of motion allowing it to heal over a relatively short period of time without costly surgical intervention. Our dog knee brace also known as a stifle brace is custom made to fit your pet specifically. We do this through a simple cast that you or your vet can do which is then mailed to our fabrication lab in Spokane, WA. From there we create a mold of your pet's affected limb that we use to build the brace around. Dog knee braces are a much more affordable and conservative solution to this common injury. Arthritis is another common issue in aging dogs. Our custom dog braces can help support the joint which in turn reduces pain. We can also build braces for larger animals such as cows, horses, goats, sheep, pigs, alpacas, etc.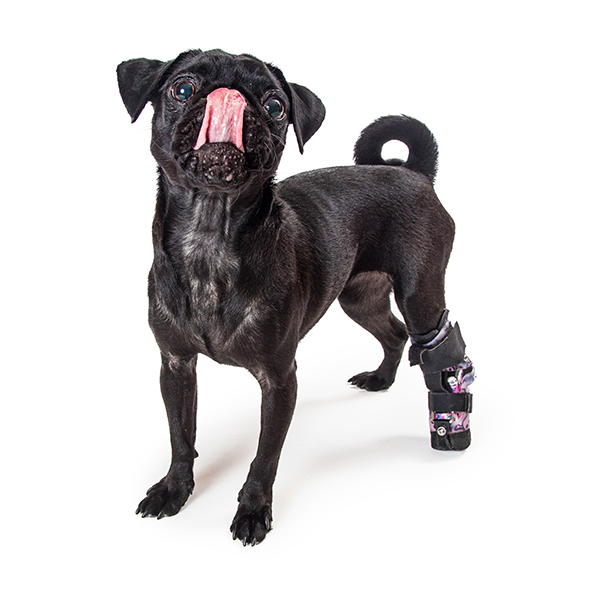 Specialized Pet Solutions was started by a licensed Orthotic Technician out of necessity.   Angela Boncz our CEO and lead fabricator has been an animal lover all her life and often toyed with the idea of becoming a veterinarian.  In the end she went a different route in college and studied Orthotics and Prosthetics (O&P).  She worked in the human O&P industry for a short time until her dog Leona needed an expensive surgery for a cranial cruciate (CCL) ligament repair.  Since this is similar to an ACL tear in humans she wondered if she could heal her with orthotics.  So she made a dog knee brace and Leona healed completely without surgery.  This was her light bulb moment.  She knew that she could do this for other animals, and started dabbling in dog braces at home.   A couple of years later she adopted a 3-legged mini pony named Prince.  
He was using a whiffle ball bat as a prosthetic, so she made him a new prosthetic leg and pretty soon he was running and bucking like a normal mini pony.   At this time she knew what she wanted to do with the rest of her life.  She has now been doing animal O&P for 15 years.  Knee braces for dogs are our speciality but we do a lot of other types of braces for many types of animals including Angela's mini Donkey Noella who she adopted with extreme hyperextension of her carpal joint and with a series of braces as she grew her deformity was corrected by about 95%.  Noella has now graduated to soft splints rather than hard shell braces.  As a company our passion is helping animals live their best life despite any deformity, disability or injury.  We love animals and we want to help yours too!  
A DIFFERENT KIND OF DOG KNEE BRACE EDIT
There's a lot of options when it comes to dog knee braces and they all work to help CCL / ACL tears in dogs.  Here is why the dog knee brace at Specialized Pet Solutions is different:
A built in Achilles relief channel.  Most braces on the market strap around the back of the leg which can cause pressure on the Achilles tendon.   The dog knee brace at Specialized Pet Solutions has re-designed their brace to provide a channel to cushion the Achilles and straps on the front reducing pressure and eliminating the risk of further injury to the Achilles.
A Patellar Bar that keeps the knee stabilized from lateral and medial movement, preventing the drawer motion which is the cause of injury to a dogs knee in the first place.
Specialized Pet Solutions uses the same materials and techniques used in human orthotics and prosthetics, creating the highest quality dog knee brace on the market today.
Phone: 509-934-0067
Email us at: specializedpetsolutions@yahoo.com
Address: 5111 E. Spangle-Waverly Rd. Spangle, WA 99031
STEP 1
Diagnose your pet's specific needs.
STEP 3
We mail the casting kit, same day if placed before 1 PM PST.
STEP 4
After making your casting, ship it back to us.
STEP 5
Once we receive the cast, within 3-5 business days we'll have a product fabricated and shipped to you. 
Our Mission:  To provide affordable, less invasive, and easily accessible solution for animals with injuries, deformities, and amputations.
Our Vision: We help animals live their best lives