Stifle/Hock Combo Brace – Specialized Pet Solutions- $795
The Stifle/Hock Brace is both a knee brace and a hock brace combined into one brace to help support and stabilize the whole leg and both the stifle joint and the hock joint. This brace is useful when both joints are affected by injury or ailment or to support when there is a missing limb on the opposite leg. Some breeds do better with this combination brace due to anatomy challenges that are described in the description below.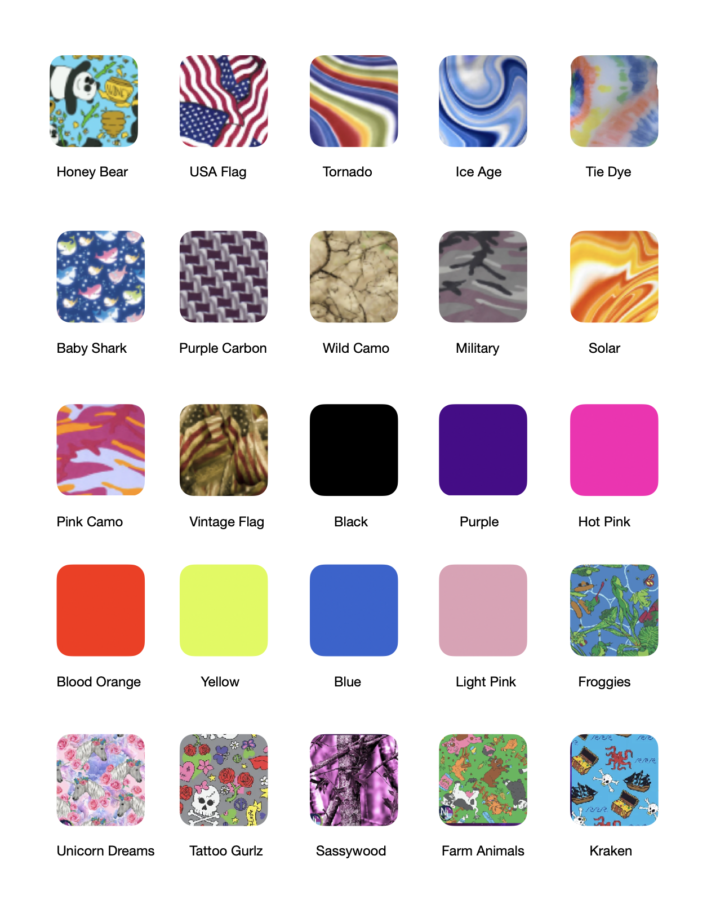 Choose from the color options shown, enter choice on order form.
Description
Our custom Stifle Hock Brace is a combination brace of both our stifle brace (knee brace) and our hock brace. This combo brace will help support the whole leg of your animal for various issues, including arthritis in both the hock and the knee joints.  It will also help support and stabilize the remaining leg when an animal has a missing limb and a prosthetic is not an option.  A combo brace is also good for dogs that have more difficult anatomy due to being overweight or certain breeds such as the bully breeds which can be much stockier.  Dogs with a lot of skin may also require a Stifle Hock Brace, as well due to the potential of a standard knee brace not being able to "lock" into place due to the excess skin.  At Specialized Pet Solutions we offer a full range of products designed to help your special pet live their best life.  Call today and let us help you help your pet.
***The customer is responsible for informing SPS in a timely fashion for any adjustment that are needed, or any device defects or other issues.  Customer must contact SPS within 30 days of receipt of device to let us know of any issues.  We will make adjustments within the first 6 months to ensure proper fit, however we cannot guarantee animal acceptance. As this is a custom one of a kind device specific to your pet there are no refunds.

Beauty the Bald Eagle: A poacher shot Beauty, tragically maiming her beak so that she couldn't eat by herself anymore and was dependent on hand-feeding for survival. After three years a group of volunteers made her a prosthetic beak, which allowed her to grasp food herself and eat properly again. 

Riley the Mare: Infections like the one Riley had, thanks to a contaminated metal plate that was placed in her limb, are so common that it seems to be a given that the horse will just have to be put down. But this quarter horse's survival of the infection and the use of a prosthetic limb are showing people that this doesn't have to be the case. Riley's survival is truly an inspiration to many.

Oscar the Cat: Oscar the cat's hind legs were severed by a combine harvester while he snoozed in a maize field near his home in Jersey off the mainland of the United Kingdom. A passing cyclist found him and brought him back to his owners; at the time they said he was so covered in blood there was no way they thought he would make it. They got him to an animal hospital known for its pioneering work on the mainland of the UK, and Oscar was given then-unheard-of surgery and fitted with implanted prosthetics. He has been through a few surgeries to ensure the prosthetics are functioning properly and is known as Oscar the Bionic Cat.

These stories are becoming legion, with more and more extraordinary tales of survival and improved quality of life across a larger and larger variety of species all the time. One of the most important considerations, though, must be whether or not a prosthetic will help with improving the animal's quality of life.
It's easy to think that we know what is best for our pet, but it's important to pay attention to the very real concerns about what a prosthetic will help them gain...and what it will not. A prosthetic isn't the same as an original limb, no matter how hard we all want it to be. And it's important to consider your pet's happiness, possibly in contrast to your own. Your happiness at the thought of your pet successfully using a prosthetic may not be the same as your pet's, and it's important that you are able to differentiate between the two.
There are three major considerations to make if you are considering a prosthetic for your pet:
Challenges for your pet: Device suspension, device rotation, and occasionally friction pressure sores are all considerations to make in terms of whether or not a prosthetic will do greater harm than good for your pet, by yourself, your vet, and your prosthetist.

Is your pet a good candidate? Certain requirements exist that must be met to make sure that your pet will be comfortable and adapt well to a new limb. 

Make sure you and your vet's goals are the same: Prosthetics can be made to meet so many goals it is important to ensure you're on the same page in terms of mobility, type of support, stress, and movement, and other issues that will arise as your pet begins to use their prosthetic. 
As always, it is imperative to include your prosthetist in many of these conversations to ensure everyone is on the same page. 
As your prosthetist, we will generally communicate primarily with your vet about all of the specifics of the prosthetics. We'll make sure we discuss everything we've discussed above as well as anything more that needs to be discussed in order to determine the right fit for your pet the first time. 
We will ship you a casting kit along with everything you need to cast your pet. If you are not comfortable casting your pet, please make an appointment with your veterinarian to assist you in the casting process. Your veterinarian will be involved in this process, so having them cast your pet for you may be a good idea; if they are familiar with your pet and you feel comfortable casting the animal, it isn't necessary to have the vet do the casting, however.

If you have any questions throughout the process please contact us. 
If a prosthetic device isn't right for your animal, they may be able to use an orthotic device. You can read more about that process here. 
We look forward to working with you and your pet!