Six Easy Steps to Get an Orthotic or Prosthetic For Your Special Pet
At Specialized Pet Solutions we custom build orthotics and prosthetics that help animals live their best lives.  We strive to build the highest quality devices on the market using time honored traditions, and sourcing our materials from the same companies used for human orthotics and prosthetics.  Our mission is to provide affordable, less invasive, and easily accessible solutions for owners of animals with injuries, deformities, and amputations.  The process seems very daunting however with our written instructions and video tutorials everyone can do it.  
Step One: Diagnose your pet.  An official diagnosis from a veterinarian is very helpful in assessing your pets specific needs and situation to ensure the best device is built for your animal.  
Step Two: Submit your order.  This can be done through our website "Buy Button" or by calling 509-934-0067
Step Three: We mail you a casting kit.  Once we have received payment we mail you a kit with written instructions and all the materials you need to cast your animal.
Step Four: Once you have casted your pet mail the cast back to us.  And email us the necessary picture measurements to specializedpetsolutions@yahoo.com   When we Receive your cast we will email confirmation of receipt. 
Step Five: When we receive your cast it takes 3-5 business days to fabricate a Dog Knee Brace.  5-7 business days to fabricate a carpal or hock brace, and 2-4 weeks to fabricate a prosthetic.  
Step Six: Once your custom device has been completed we mail it to you and email you tracking information so you know exactly when it will arrive.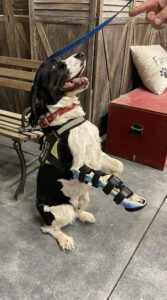 Many pet insurance companies will cover the cost of orthotics and prosthetics however they often times will require that you purchase the device up front then fill out necessary claim forms to be reimbursed.  
Always feel free to reach out to our customer service rep with any questions.  Specialized Pet Solutions 509-934-0067